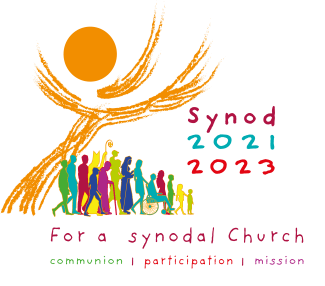 "We recall that the purpose of the Synod, and therefore of this consultation, is not to produce documents, but to plant dreams, draw forth prophecies and visions, allow hope to flourish, inspire trust, bind up wounds, weave together relationships, awaken a dawn of hope, learn from one another and create a bright resourcefulness that will enlighten minds, warm hearts, give strength to our hands"
-Pope Francis, October 2018
Find the Synod Prayer here.
---
3 WAYS TO PARTICIPATE IN SYNOD
1- COMPLETE DMI Survey — CLOSED April 4th, 2022
Raise every voice & Let YOUR opinion be heard!
Don't miss this opportunity to answer Pope Francis' call to action, Synod 2023.
2- ATTEND Local Listening Session  (in-person or virtual)
Option #1:  Holy Cross: In-Person
March 26th & 27th: after each Mass (one hour)
Location:  Multipurpose Room, on ground floor of church (140 E Mt Airy Ave)
Option #2:  Holy Cross:  Virtual on Zoom

| | |
| --- | --- |
| Friday, March 25th | 5:30 PM to 6:30 PM |
| Monday, March 28th | 7 PM to 8:30 PM |
| Tuesday, March 29th | 7 PM to 8:30 PM |
| Thursday, March 31st | 7 PM to 8:30 PM |
| Sunday, April 3rd (for teens) | 7 PM to 8:00 PM |
In-Person & Virtual Sessions:  REGISTER NOW
Make the most of this experience! View Discussion Questions here.
3- ATTEND Regional Listening Session  (in-person or virtual)
If none of the above dates/times fits your schedule, please visit https://www.catholicleaders.org/archphila-synod-sessions for a list of Regional Listening Sessions in the area. Registration is required.
---
Synod 2023 poses this "big question" to the whole church, and to individual members of the church:
A synodal Church, in announcing the Gospel, "journeys together." How is this "journeying together" happening today in our parish? What steps does the Spirit invite us to take in order to grow in our "journeying together"? 
Read the documents that have been prepared for Synod 2023 here: Click on the links below to download the documents.
The Preparatory Document: an introduction to themes and processes
Vademecum: a handbook for the synod
Suggestions for Reflecting: ways to engage and respond to the "big question" of the Synod
For More of the Synod 2021-2023, visit Synod Official Website.