God who created all people out of love also calls us to love the fundamental and innate vocation of every human being. For we are created in the image and likeness of God who is himself love. The mutual love [which spouses bear for each other] becomes an image of the absolute and unfailing love with which God loves us. It is good, very good, in the Creator's eyes. and this love which God blesses is intended to be fruitful and to be realized in the common work of watching over creation.

"God blessed them, and God said to them: 'Be fruitful and multiply, and fill the earth and subdue it.'"

Holy Scripture affirms that man and woman were created for one another: "It is not good that the man should be alone." The woman, "flesh of his flesh," i.e., his counterpart, his equal, his nearest in all things, is given to him by God as a "helpmate"; she thus represents God from whom comes our help. "Therefore a man leaves his father and his mother and cleaves to his wife, and they become one flesh." The Lord himself shows that this signifies an unbreakable union of their two lives by recalling what the plan of the Creator had been "in the beginning": "So they are no longer two, but one flesh."

(Catechism of the Catholic Church, § 1604-1605)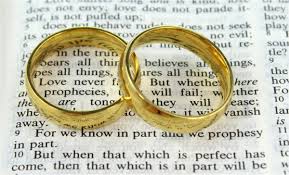 Congratulations on your engagement!
Preparing for the Sacrament of Matrimony is a wonderfully busy time in the lives of the members of our family. Please contact the rectory so that we can assist you through your preparation. The necessary preparatory steps typically require a minimum of six months lead time before the date of your wedding.
Preparatory steps include:
Scheduling a date and time for your wedding;

Consulting in the preparation of prayers and readings for the ceremony;

Gathering appropriate paperwork for officially recording your marriage. This includes recent copies of Baptismal Certificates, as well as affidavits testifying to your freedom to marry.
The official diocesan policy for celebrating the Sacrament of Marriage is here.